Stockdale Integrated Banking Project – Model Analysis
Rosedale-Rio Bravo Water Storage District/Irvine Ranch Water District (2014 – 2016)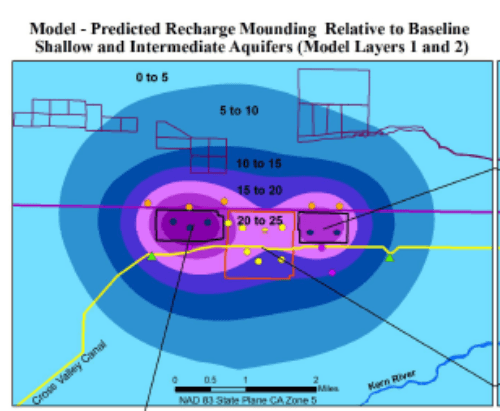 Project Objective:
In support of the Stockdale West Integrated Banking Project near Bakersfield, California, TH&Co  provided a wide range of hydrogeological services, including analysis of potential groundwater level impacts using a groundwater flow model.  TH&Co utilized an updated version of their previously developed and calibrated groundwater flow model of the Kern Fan Area area to conduct the analysis.
Project Approach
The analysis included:
Evaluation of annual recharge capacity,
Evaluation of aquifer storage capacity,
A groundwater quality evaluation,
Well siting and conceptual well design,
Development of project recharge and extraction scenarios for analysis using the model,
Analysis of project recharge scenarios using model results, and
Support during the CEQA process
Project Results:
The TH&Co model was successfully used to simulate the potential groundwater level changes associated with recharge and recovery of stored water in support of the environmental document for the project.  Upon completion of the environmental document, TH&Co  provided onsite inspection and data collection during all aspects of drilling, data collection, final design, construction, and testing of the first three extraction wells for the project.   Data collected during drilling of the wells has been used to further refine the model.